Eight-year Efforts with Great Success, High-end Materials for Dream Pursue
There is a (methyl) acrylic-type cycloaliphatic epoxy monomer with annual sales of less than 200t, but it has been listed in the category of "bottleneck" materials that need to be addressed urgently in Guidelines for Demonstration of First Batch Applications of Key New Materials (2019 Edition and 2021 Edition) by the Ministry of Industry and Information Technology, with the reason that it is one of the most widely used monomers in the global ArF photoresist industry chain.
Photoresist, also known as photosensitive resist, is a medium used for pattern transfer through photochemical reactions. It is a type of fine chemicals characterized with assorted varieties, diversified properties and wide applications. Mainly used in fine processing of integrated circuits and discrete semiconductor devices in the electronics industry, the photoresist is to transfer fine patterns required from the mask to the substrate to be processed through exposure and development under the photochemical reaction, then to undergo etching, diffusion, ion implantation and metallization process. Therefore, it is the key basic chemical material in the electronic industry.

The progress of electronic industry is closely related to the development of photoresist. If there is no core technology of semiconductor photoresist in hand, the integrated circuit industry in China will still be limited even if any breakthrough is made in photoetching machine. At present, more than 90% market shares of semiconductor photoresist have been occupied by enterprises in Japan, Korea and the United States, with main manufacturers including JSR, TOK, Fuji Electronics, Shin-Etsu and Sumitomo Chemical in Japan as well as Dow Chemical in the United States. Although domestic photoresist has been developed in recent years, it can only strive for breakthroughs in high-end markets, especially in the field of Arf photoresist. As mostly core processes of raw material production are mastered by foreign enterprises, this barrier also makes it difficult for domestic manufacturers to develop high-standard products.
At the end of 2015, a well-known foreign photoresist enterprise put forward that "There is an acrylic-type cycloaliphatic epoxy monomer in the market accounting for a large proportion in their photoresist formula system, but only one Japanese enterprise can supply such product in bulk. Therefore, they may face the risk of running out of stock at any time., and the enterprise invited Tetra to provide such kind of products by virtue of the technical accumulation in the field of cycloaliphatic epoxy resins." Faced with such new market opportunity, Tetra New Materials set up a special team for photoresist project (Internal Project Code PR-001) with the General Manager as the team lead, the Technical Director as the project manager. The project team was composed of talented professionals in process development, R&D analysis, process technology, engineering technology, production development and supply chain to jointly tackle problems in key technologies.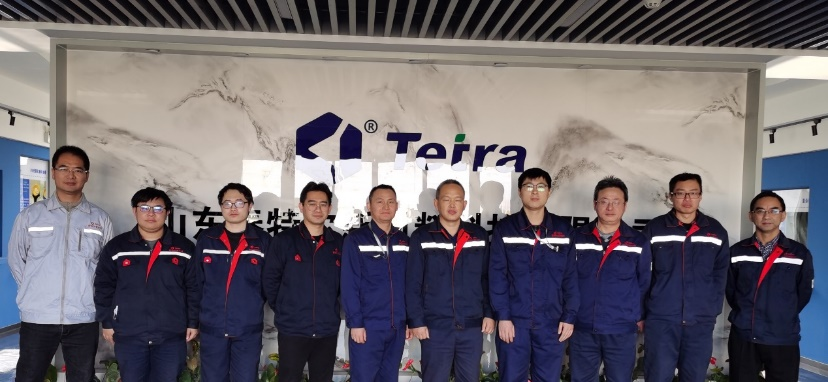 Group Photo of Project Team
Based on the overall schedule of "two years for laboratory production, two years for pilot production and three years for mass production", the process development team conducted more than 1000 trials in the laboratory in over 600 days, solved problems in process route selection, indices of raw and auxiliary materials and intermediates, catalyst screening, inhibitor screening, product polymerization during distillation process, product yellowing, analysis of polymer and other impurities (key impurity<0.1%; non-detected polymer is required), excessive inhibitor, excessive viscosity (≤15cps) and excessive metal ions (the content of 12 kinds of metal ions ≤50ppb) and finally provided five batches of laboratory expanded samples for customers in 2017 and passed the customer's laboratory test in early 2018.
| | |
| --- | --- |
| | |
| Process Development Team Exploring Rectification Parameters | R&D Analysis Team Evaluating the Product Quality |
After passing the laboratory test, the team members were greatly encouraged and carried out 100kg pilot test for the product. In nearly two years, they addressed various issues in the pilot test, introduced azeotropic distillation and membrane separation technologies to achieve various technical indicators of laboratory test and smoothly passed the customer's pilot test in 2019. By virtue of the solid foundation of pilot test stage, the products have been output stably in Taixing Base in Jiangsu since 2021 and also passed the customer's production line verification. In 2022, the trial production of such products were launched in Dongying Base in Shandong and samples are being sent to customers for verification.
| | |
| --- | --- |
| | |
| Pilot Production Personnel Debugging Device Parameters | Technical Engineer Simulating Downstream Applications |
The implementation of this project has not only enriched the product categories of Tetra New Materials, but also further built up the project team and accumulated a lot of technological achievements and know-hows. We have successively obtained 3 patents for invention, 8 patents for utility models and successfully applied for the provincial/municipal special funds for commercialization of major scientific and technological achievements.
TTA15 3 4 epoxycyclohexylmethyl methacrylate and TTA16 acrylate esters wholesale are the first two products in the field of semiconductor photoresist invested by Tetra. Since the most critical resin materials in photoresist are usually synthesized independently by different manufacturers, the core competitiveness of the products is highly related to the abundance of upstream raw materials and the level of synthesis technology. Therefore, seeking out the upstream raw materials is the first step to break the material blockage of foreign manufacturers. Compared with similar varieties, TTA15 and TTA16 have not only significantly enhanced thermal aging resistance, but also offered excellent reactivity, which are the important supplement of key properties of synthetic materials and also fill the gap in the localization of such kind of raw materials.

Tetra New Materials is always committed to the localization of essential cycloaliphatic epoxy materials in the development of photoresist and will continue to make contributions to the rise of China's IC industry.

About Tetra
Tetra has positioned itself in high-end epoxy materials since its establishment, aiming to become a provider of perfect solutions with an international first-class brand in the new material industry. After more than 10 years' development, the Company has successfully broken the technical blockade of foreign enterprises in the field, realized the localized substitution of various cycloaliphatic epoxy monomers and formed a series of technical systems with independent intellectual property rights. At present, the Company has owned more than sixty patents. In addition to fully meeting the needs of traditional downstream industries at home and abroad, these products have also been widely used in new fields such as UV curable coatings/inks, composite materials, adhesives, electronic and electrical insulation, semiconductor packaging materials, 3D printing additive manufacturing, etc.
The Company now has a high-quality management team composed of professionals engaged in R&D and technology applications in the field of new materials. We have set up the Epoxy Resin Engineering Technology Center and the Application Technology Service Center equipped with complete technology chain including laboratory for lab test, safety laboratory, kilogram scale expansion test laboratory, pilot transformation device, etc. Guided by the operation philosophy of "Internationalization, Technicalization and Greenization", the Company has taken Precise and Professional Management, Innovation and Entrepreneurship as the spiritual motivation and action program for corporate development to enhance the core competitiveness driven by organization, technology, cost and quality, serve the customer, competition and changing business goals and strive to create the maximum value for customers.
In order to improve corporate social responsibilities, the Company has attached great importance to the environmental protection, promoting cleaning production and passing the certification of ISO14001 Environmental Management System; besides, the Company has always adhered to the safety production policy of "Safety Utmost, Prevention First, Comprehensive Management, Full Participation and Continuous Improvement" and passed OHSASI 18001 and Safety Production Standardization certification.
In recent years, the Company continues to strengthen the development of new products and technologies and is committed to creating a Chinese benchmark for the application of new chemical materials and guiding domestic demands to push the upgrading of specialty epoxy resins industry in China.