As we all know, Cycloaliphatic Epoxy Resin has the characteristics of low viscosity, low halogen, high transparency, low shrinkage, etc. When used with related curing agents, the cured product has high Tg, high heat resistance, high strength, and resistance yellowing and other properties. Therefore, it has been widely used in electrical insulation, semiconductor packaging, 3D printing additive manufacturing, light-cured ink/paint, composite materials and other fields.
In recent years, we have done a lot of related research on the thermal curing and light curing applications of cycloaliphatic epoxy resins, and provided a lot of technical support for downstream customer product applications. In this process, many customers are very interested in whether cycloaliphatic epoxy resins can be cured with amines and their practical application value. Therefore, we have conducted some experiments on this issue, and now we take this opportunity to share it with everyone.
Can cycloaliphatic epoxy resins be cured with amines?
The chemical structure of cycloaliphatic epoxy resins and bisphenol A epoxy resins determines that they have differences in the type of reaction with curing agents. When amine is used as the curing agent, the reaction rate of cycloaliphatic epoxy resins is much slower than that of bisphenol A epoxy resins. This is because the terminal epoxy group (epoxy ethane) and the internal epoxy group of cycloaliphatic epoxy compounds have obvious differences in stereo structure, and this difference has a great impact on their reaction activity. As shown in Figure 1 below, in the internal epoxy compounds represented by epoxy ethylene oxide, the four carbon atoms at C6, C1, C2, and C3 are in the same plane, and the two carbon atoms C4 and C5 are on the back of the epoxy group, protruding from the upper and lower planes of the C6-C3 plane. Therefore, compared with the carbon atoms of the terminal epoxy group, C1 and C2 are subject to very large steric hindrance, resulting in much lower reaction activity than the reaction activity of the terminal epoxy compound.
Figure 1
To further explore the amine curing of cycloaliphatic epoxy resins, we selected Jiangsu Tetra's main cycloaliphatic epoxy TTA21P and two conventional amines for related experiments.
The curing reaction of cycloaliphatic TTA21P and IPDA: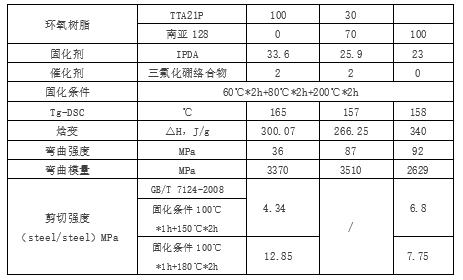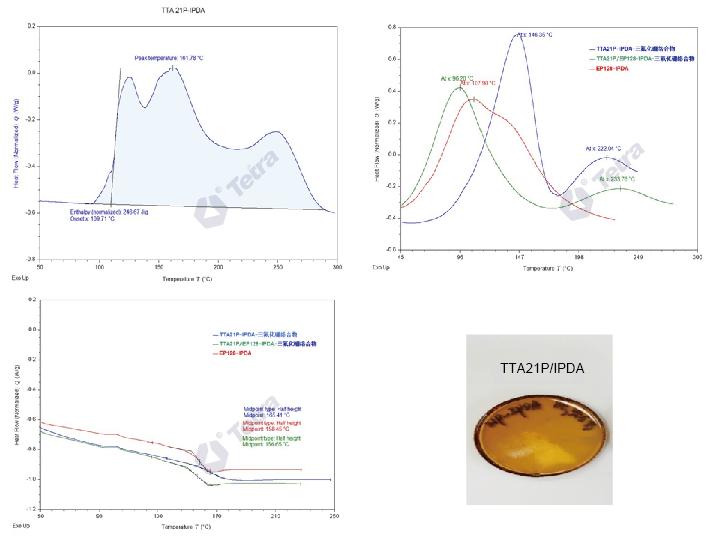 The curing reaction of cycloaliphatic TTA21P and D230: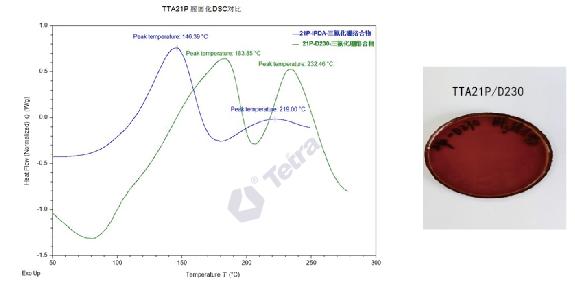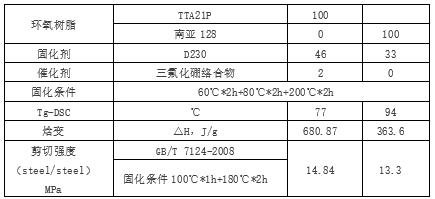 After a lot of experiments, we have summarized the relevant conclusions to provide a basis for the application of cycloaliphatic epoxy resins in the future
In the reaction of cycloaliphatic epoxy resin TTA21P with IPDA or D230, boron trifluoride complex is used as a promoter to promote the full reaction of cycloaliphatic epoxy resin TTA21P with IPDA, which can reduce the curing temperature and time.
Cycloaliphatic epoxy resins are not easy to cure with amines, but it does not mean that they cannot be cured. The reaction requires high temperature and long time curing, but this has no practical application meaning. Boron trifluoride complex, as a cationic polymerization catalyst for epoxy groups, can induce a large amount of heat release during curing, causing the internal temperature of the system to be very high for a short time. Therefore, by incorporating boron trifluoride complexes into the system, high-temperature and short-time curing can be achieved for the reaction of cycloaliphatic epoxy resins with amines.