With the increasing and diversified demands for the properties of epoxy resins in fields such as electronic devices, composite materials, and adhesives, the requirements for toughness are becoming higher and higher. Thus, there is a need for tougher and more resilient cycloaliphatic epoxy resin curing agents. Due to the rigid structure of cycloaliphatic epoxy resins, the resulting cured products form a dense three-dimensional network with a high degree of crosslinking, resulting in brittleness. Currently, there are many research results on improving the toughness of epoxy resins in literature and patents.
Main Toughening Methods for Cycloaliphatic Epoxy Resins:
Technical scheme

Viscosity

Compatibility

Operability

Toughening performance

Principle

Tg

Transparency

Toughening effect

Plasticizer

Low

Good

Good

Significant decrease

Good

Stable, modulus decrease

Reduce rigidity and crosslink density

CTBN series

High

Good

General

Decrease

Bad

Stable, weather resistance decreases

Introduce rubber phase to form island structure

Core-shell rubber CSR

High

General

General

Slightly decrease

Bad

Stable, difficult dispersion

Introduce rubber particles to form microphase separation

Block copolymers

Solid

General

General

Slightly decrease

Bad

Unstable, difficult to control phase separation

Introduce copolymer particles to form microphase separation

Inorganic nanoparticles

Solid

Poor

Fair

No decrease

Fair

General, high rigidity

Introduce rigid particles
The above methods mainly target bisphenol A-type epoxy resins. Jiangsu Tetra New Material Technology Co., Ltd. refers to but is not limited to these methods and is focusing on toughening cycloaliphatic epoxy resins. In practical applications, there is still a need for further improvement in properties such as tensile strength, elongation at break, fracture toughness, and impact strength, while ensuring that the heat resistance is not significantly compromised. Special applications also require excellent transparency, posing more challenges for product development.
Performance of the Cycloaliphatic Epoxy Resin TTA-M02 Curing System
Firstly, we will introduce Tetra's new product, TTA-M02. This product has significantly improved impact strength compared to the TTA 21 series, with a three-fold increase in the elongation at break of the succinic anhydride curing agent and a 100% increase in impact strength. At the same time, the Tg is not lower than 180°C, maintaining high heat resistance.
Table of succinic anhydride curing system properties: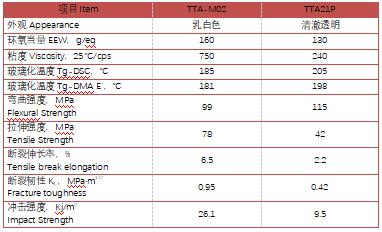 Note: (1) Succinic anhydride: MHHPA; (2) Curing condition: 100°C/2hr +140°C/2hr +180°C/1hr

In addition to commonly used toughening methods, rubber phases or block copolymers are added to epoxy resins to form a phase-separated structure for strong toughening after curing. However, the formation of this phase-separated structure leads to a decrease in transparency due to the diffuse reflection on the interface. Therefore, this method is not suitable for applications with high optical performance requirements. To meet such demands, we have developed TTA-M03, a cycloaliphatic epoxy resin with a Tg of 180℃ that significantly improves fracture elongation (above 80 MPa), tensile strength, and adhesion strength. Additionally, it has excellent transparency and heat aging resistance. After a 150℃/200h heat aging test, its appearance showed no significant changes.
Performance table of acid anhydride curing system: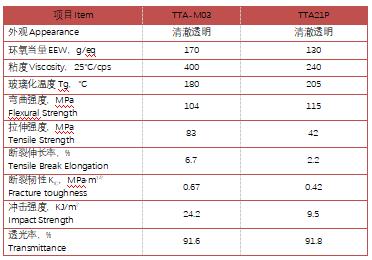 Note: (1) Anhydride: MHHPA; (2) Curing conditions: 100℃/2hr +140℃/2hr +180℃/1hr.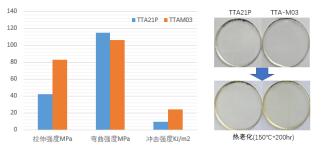 It can be seen from the above that the heat resistance, excellent mechanical properties, and transparency of the cured system are well balanced, making it suitable for applications in composite materials, electronic packaging, adhesives, and other fields.
The above is about the sharing of toughening technology and performance of cycloaliphatic epoxy resin. At present, a large amount of testing and evaluation data has been accumulated. If you have any questions related to cycloaliphatic epoxy resin products and toughening technology, please feel free to contact Jiangsu Tetra for consultation and samples, to promote better application of cycloaliphatic epoxy in customer formulations and enhance product value.