The epoxy-anhydride curing system has the characteristics of low viscosity, low shrinkage, low toxicity, and low heat release, and is widely used in various fields. Jiangsu Tetra New Material Technology Co., Ltd., as a leading supplier of global special cycloaliphatic epoxy resins, has done a lot of basic research experiments on cyclic resin-anhydride curing systems in recent years. This issue will focus on related introductions and sharing of cyclic Epoxy-anhydride system, hoping to help users in the industry in the application of cycloaliphatic epoxy resins.
Since the molecular structure of cycloaliphatic epoxy resin does not contain hydroxyl or other active hydrogen-containing groups, the reaction activity with the anhydride is lower than that of ordinary epoxy resins. Therefore, additives are generally added to the cycloaliphatic epoxy resin-anhydride curing system to improve the reaction rate, degree of cure, and shorten the curing time. Hydroxyl-containing substances also promote reactions. In the absence of additives, the hydroxyl group of the epoxy resin first reacts with the anhydride to form a carboxylic acid with an ester chain:

Then, the carboxylic acid and the epoxy resin's epoxy group undergo ring-opening addition reaction to generate secondary hydroxyl:

The secondary hydroxyl generated then reacts with another epoxy group, repeating the above steps and finally producing highly cross-linked high-molecular weight polymers.

In this issue, we conducted relevant performance evaluation experiments of TTA21P, a typical representative of Tetra, with different anhydride curing agents. The details are as follows:
TTA21P cured with anhydride (methylhexahydrophthalic anhydride)

From the table above, it can be seen that the cycloaliphatic epoxide resin-anhydride system has the characteristics of good heat resistance, excellent electrical insulation, and small curing shrinkage (compared with amine curing systems), but it also has shortcomings such as low tensile strength, small elongation at break, and poor fracture toughness. We hereby correct the qualitative judgment of "high tensile strength" promoted by other suppliers to avoid misleading users.
To address the above shortcomings, the Jiangsu Tetra New Material Technology Application Service Center has also made some modification attempts and found that the cycloaliphatic epoxy resin can significantly improve the above drawbacks after modification. The results are now shared as follows: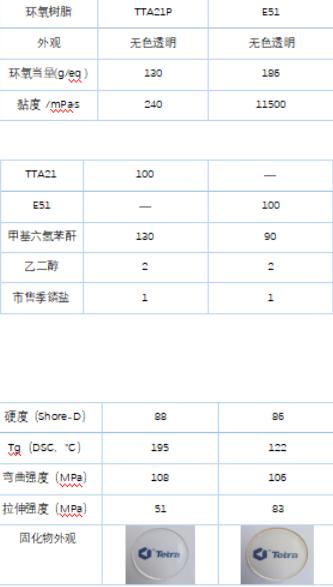 TTA21P cured with different types of anhydrides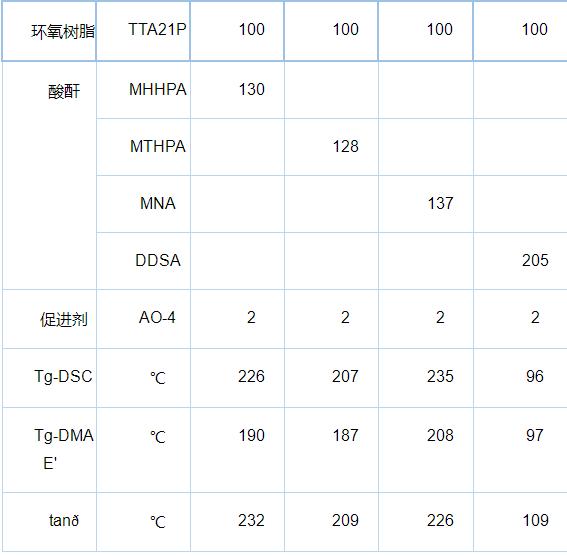 Overall, the cycloaliphatic epoxy resin-anhydride curing system has obvious features such as high transparency, high heat resistance, and high modulus. Additionally, since unsaturated bonds such as benzene rings do not exist in the structure, it also has excellent UV aging resistance. Mixing cycloaliphatic epoxy resins with other resins can lower the system's viscosity and improve system Tg, crosslinking density, transparency, electrical properties, etc. It is precisely because of these characteristics that the cycloaliphatic epoxy-anhydride system has been widely used in composite materials, electronic packaging, adhesives, and other fields. As you browse through Tetrawill's comprehensive guide on the performance characteristics of cycloaliphatic epoxy systems, we want to ensure that you have a complete understanding of the essential components that create these high-performing systems. Two critical compound worth mentioning is CAS 5493 45 8 and the 3 4 epoxycyclohexylmethyl methacrylate. Additionally, we must highlight the significance of CAS 106 87 6 and CAS 5026 74 4, which both play a pivotal role in the effectiveness of cycloaliphatic epoxy systems. By exploring the unique properties and applications of these compounds, you can gain valuable insights into the countless benefits and potential uses of cycloaliphatic epoxy systems.
The above is a partial information sharing about the cycloaliphatic epoxy resin-anhydride system, which can provide reference for downstream customer applications. We also welcome more communication and exchanges with customers to promote better application of materials and problem-solving.